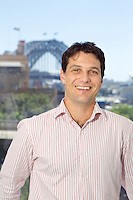 At Atlas, Andrew's deep experience in derivatives is utilized in developing derivatives overlay strategies for the Atlas High Income Property Fund.
Andrew has 14 years' financial markets experience across portfolio management, execution, operations and distribution. Andrew worked at Fortitude Capital/Aurora for 10 years managing absolute return and equity income funds focused on derivatives strategies, long/short trading and arbitrage strategies.  Fortitude Capital was awarded Australian Hedge Fund of the year in 2008 and 2009.  Prior to joining Fortitude Andrew worked as a Senior Accountant at EY Sydney and PKF South Africa.
Andrew is a Chartered Accountant and holds a Bachelor of Commerce and Post Graduate Diploma in Accounting from the University of Cape Town.