On Monday this week, Westpac ruled off the 2018 financial year-end profit results for the Australian banks. In the words of Queen Elizabeth, 2018 could only be described as an annus horribilis for Australian banks and their investors. In addition to the CEO of one major bank losing his job, the revelations of the Royal Commission on Financial Services resulted in remediation provisions and a spike in legal fees (which should see new sports cars and beach houses at Palm Beach being left by Santa for sections of the legal community this Christmas). Numerous fines have also been levied on financial institutions, and credit growth has slowed. These factors have combined to create an environment of fear that has weighed on bank share prices.
In this piece, we are going to look at the common themes emerging from the banks in the October 2018 reporting season. We will differentiate between the major trading banks and hand out our reporting season awards to the financial intermediaries that grease the wheels of Australian capitalism.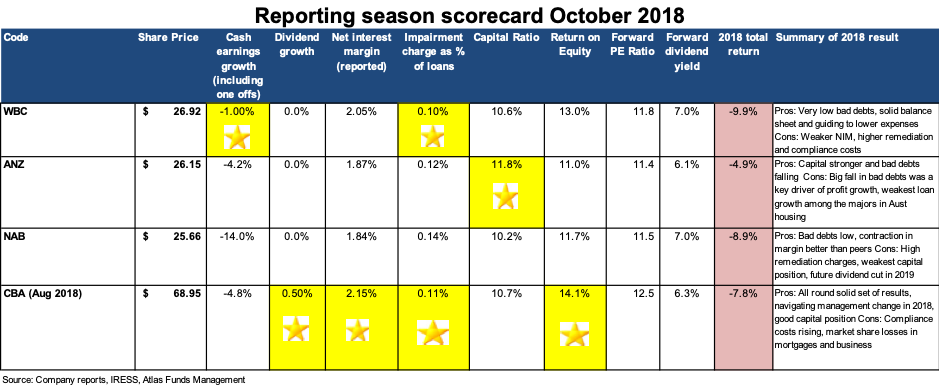 Scaling back the empire
The main theme from 2018 was the banks breaking down the allfinanz model that they have carefully built up over the past 30 years. Allfinanz or bancassurance refers to the business model where one financial organization combines banking, insurance and financial services (such as financial planning) to provide a financial supermarket for their customers. This model is based on the somewhat false assumption that the bank's employees can efficiently cross-sell different financial products to their existing customers at a lower cost than if this was done by separate financial institutions. Operating in this way obviously creates some of the conflicts of interest that have been on display at the Royal Commission over the past eight months.
Over the past year, we have seen Commonwealth Bank sell their life insurance business to AIA as well as their asset management business a week ago to Mitsubishi UFJ for a very solid price. Similarly, over the past year ANZ have exited both their wealth management and life insurance businesses. NAB also announced plans to sell MLC wealth management by 2019. Additionally, Westpac has continued to reduce its stake in BT Investment Management (now renamed as the Pendal Group). These moves can be seen as acknowledging that the costly exercise of creating vertically integrated financial supermarkets was a mistake. They might also have been motivated by concerns as to what recommendations the Royal Commission is likely to make in 2019.  If adverse rulings are made on vertical integration in the Royal Commission's Final Report, most of the banks have already made moves to simplify their businesses, so shareholders won't be exposed to significant "fire sales" of assets by motivated sellers.
Profit growth
Across the sector, profit growth was quite subdued in 2018 as the banks grappled with slowing credit growth, the application of tighter lending standards, customer remediation, and additional legal costs stemming from the Royal Commission. The above Banks Scorecard looks at the growth in cash earnings inclusive of these costs. Whilst many companies encourage investors to look through these charges, ultimately they are real costs that impact the profits available to shareholders. In aggregate the four banks have set aside $1.3 billion to cover customer remediation.
Westpac reported the strongest cash earnings as a result of keeping costs under control, very low bad debts, and a lower level of customer remediation charges. NAB brought up the rear due to both $755 million in restructuring costs and $435 million in customer remediation charges.

Gold Star
Bad debts
A big feature of the 2018 results for the banks has been the ongoing decline in bad debts. Falling bad debts boost bank profitability, as loans are priced assuming that a certain percentage of borrowers will be unable to repay. Additionally, declining bad debt charges year on year create the impression of profit growth even in a situation where a bank writes the same amount of loans at the same margin. Bad debts fell further in 2018, as some previously stressed or non-performing loans were paid off or returned to making interest payments. The principal factors causing this fall have been the low unemployment rate and a near absence of major corporate collapses over the past 12 months.
Westpac and Commonwealth Bank both get the gold stars with very small impairment charges courtesy of their higher weight to housing loans in their loan book. Historically home loans attract the lowest level of defaults.


Gold Stars
Shareholder Returns
Across the sector dividend growth has essentially stopped, with CBA providing the only increase of two cents over 2017. It would be imprudent for the banks to raise dividends in an environment where loan growth is slowing, provisions are rising, and the management teams of the banks are regularly appearing either in front of the Royal Commission or before our political masters in Canberra.
In 2018 dividends were maintained across the banks, which was a surprise in the case of NAB, as we expected a dividend cut. In 2018 NAB paid $1.98 in dividends on diluted cash earnings per share of only $2.02; a very high payout ratio and not a sustainable situation given that the bank's capital ratio is below the APRA target of 10.5%.
Looking ahead, dividends growth is likely to be subdued in 2019 as the banks digest the outcome from the Royal Commission. ANZ and CBA shareholders can expect capital returns in the form of share buy-backs to offset the dilution from asset sales. In 2018 ANZ have bought back $1.9 billion of their own stock, with an additional $1.1 billion to be bought back over the next six months. The major Australian banks in aggregate are currently sitting on a grossed-up yield (including franking credits) of 9.4%, quite an attractive alternative to term deposits.

Gold Star
Interest Margins
The banks' net interest margins [(Interest Received – Interest Paid) divided by Average Invested Assets] in aggregate declined in 2018, reflecting higher wholesale funding costs and borrowers switching from interest only (which attracts a higher rate) to principal and interest mortgages. This switching was done in response to regulator concerns about an overheated residential property market and in particular the growth in interest-only loans to property investors. Looking ahead in 2019 margins should recover courtesy of a rate rise of around 0.15% announced in mid-September. In September all the banks put through a similar rate rise with the exception of NAB, and it will be interesting to see whether NAB increases its market share as a result of this or follows suit at a later date.

Gold Star
Total Returns
In 2018 all the banks have delivered negative absolute returns, also trailing the ASX 200 which eked out a small gain of 0.24%. The uncertainty around the outcomes from the Royal Commission, rising compliance costs, and slowing credit growth has weighed on their share prices. Westpac has been the worst performing bank, mainly due to concerns raised earlier in the year about the bank's lending standards in their $400 billion mortgage book, though we are yet to see any evidence in the form of rising bad debts to back up these claims.
No stars given
Our View
Whilst it is hard to be a bank investor at the moment and some fund managers are advocating avoiding them all together, our view is that at current prices investors are being paid an attractive dividend yield to own solid businesses that have a long history of finding ways to grow earnings and navigate political minefields. Looking at the wider Australian market, the banks look relatively cheap, are well capitalised, and – unlike other income stocks such as Telstra – should have little difficulty in maintaining their high fully franked dividends. Additionally, the share prices of ANZ and the Commonwealth Bank will see the benefit from share buybacks, as the proceeds from the sales of non-core assets are received.  The key bank overweight positions in the Maxim Atlas Core Equity Portfolio are Westpac, ANZ and Macquarie Bank.